Features
Countryside Alliance
This brilliant comedy spreads the muck on what it's like growing up in rural England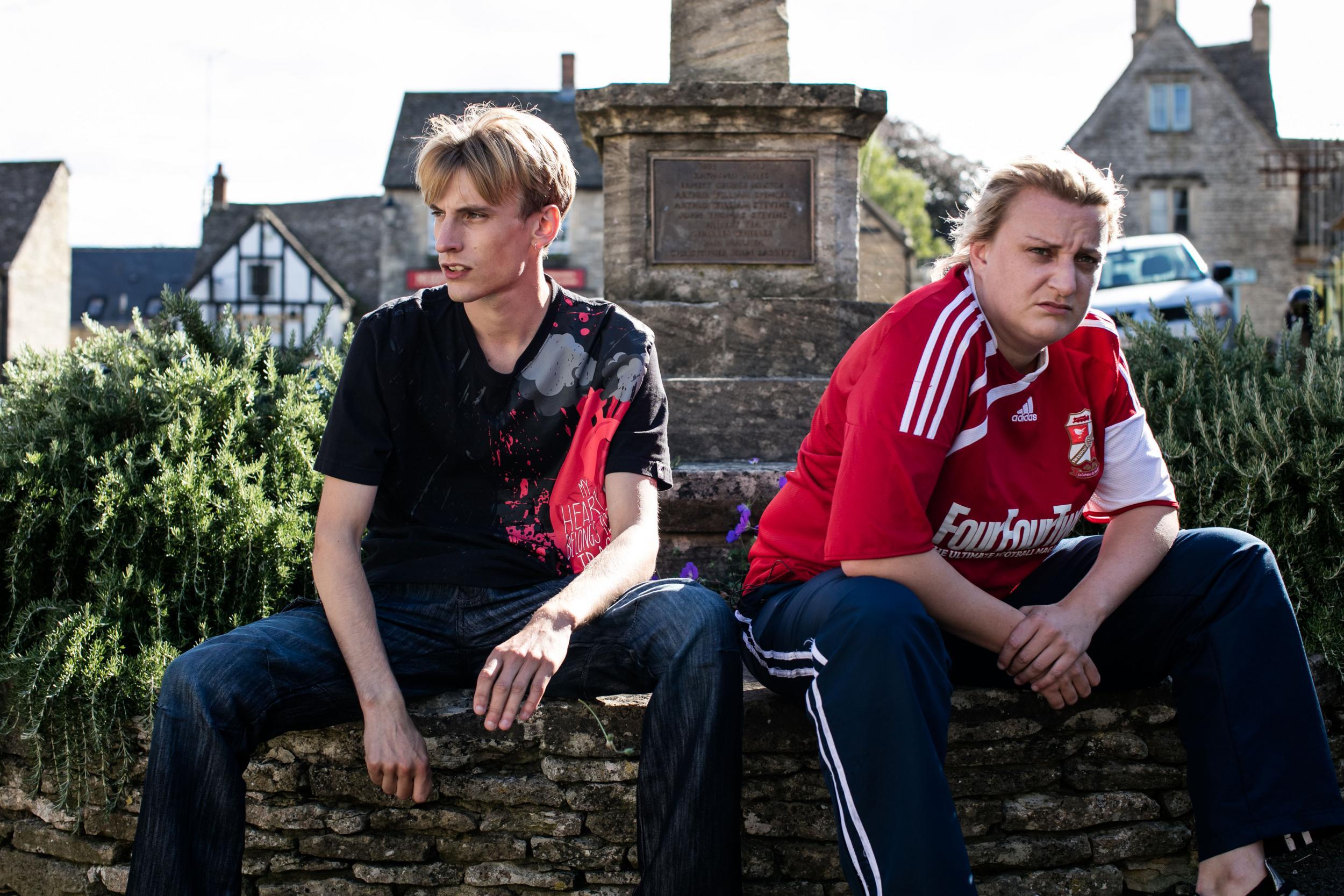 Townies won't get it. If you had a cinema and a Wetherspoon's you might as well have been living in Manhattan. But for anyone who grew up in one of the thousands of semi-isolated villages that cover the country like culture-starved pox, This Country, a new sit-com from BBC Three will seem very familiar.
Shot faux-documentary style under the auspices of examining the lives of marginalised rural youth (a legitimate issue), This Country follows cousins Kerry and Kurtan Mucklowe, played by real life brother and sister, Daisy May and Charlie Cooper.
The pair cross paths with a rogues' gallery of living, breathing Toby jugs and other assorted countryside characters as they try and fill the empty days left by a lack of prospects and a bus that only comes once a day. Sounds miserable? Wrong. It's as much a love letter as it is a piss-take, and here are just ten of many quote-ready moments.
Slugs
Kerry and Kurtan's hapless friend Michael 'Slugs' Slugette might have terminal cancer, but that doesn't stop Kerry and Kurtan avoiding him at all costs, even if means missing out on laser quest. "He's so utterly annoying," says Kerry. "If you want to have a bucket list that's fine but don't drag us into it."
Flight simulator
Kerry spends a night bonding with her estranged father Martin while they pilot and co-pilot a simulated flight from Los Angeles to Frankfurt while drinking beers in Martin's caravan. During the flight, Martin takes the opportunity to tell Kerry some stories about himself, like when he used to play pool with Fred West on the last Thursday of every month. I know he done some iffy things but as a builder he was top notch."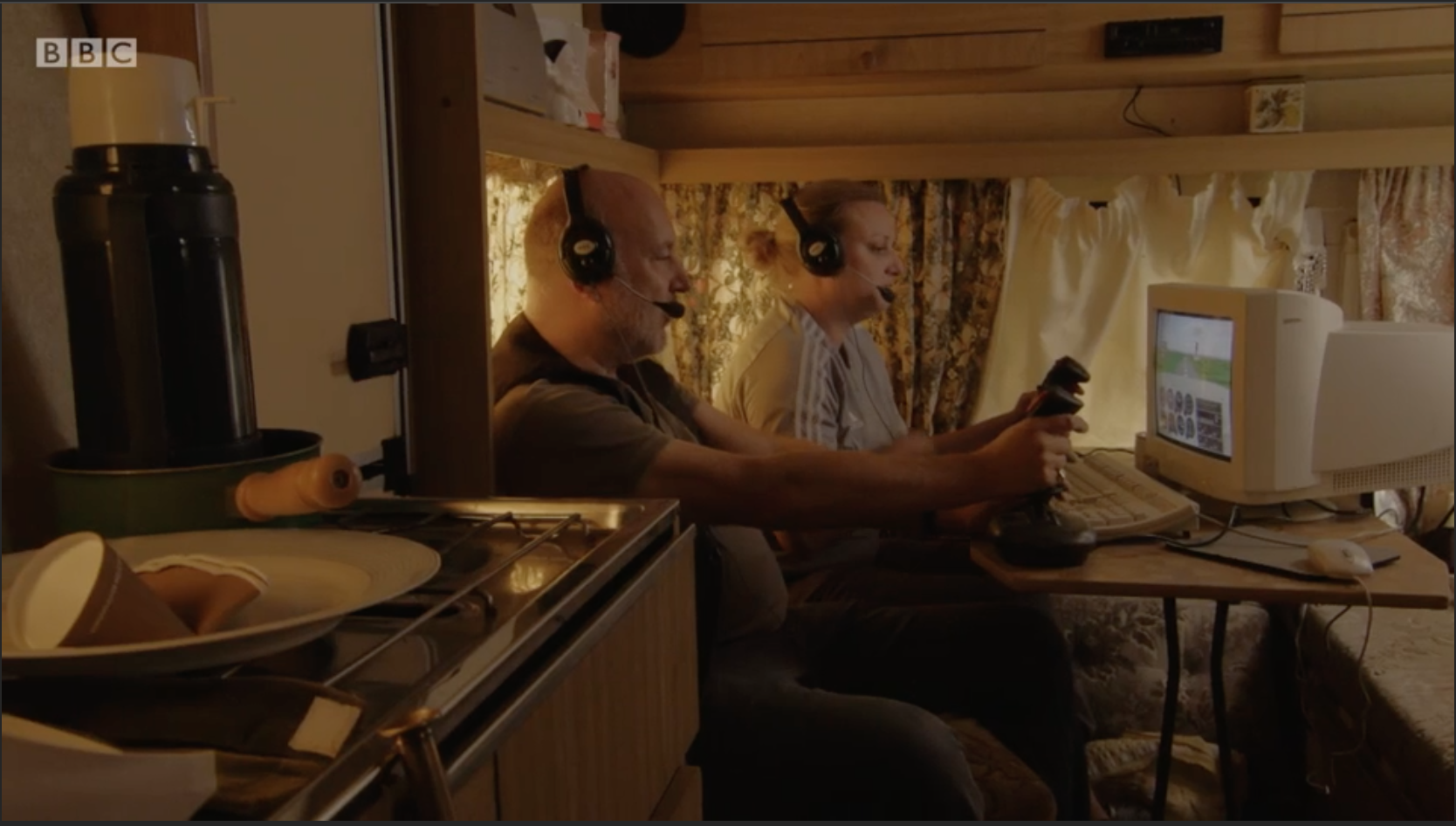 Plummin' someone's house
Telling the camera she has "enemies in South Cerney, I got enemies in North Cerney, I got enemies in Cerney Wick. I got enemies in Bourton-on-the-Water" Kerry discusses what a burden it is being hard. She surrounds herself with a gang, including Weak Nathan, as added protection. But when she gets home one day she finds that her enemies have covered her house in smashed plums. But is everything exactly as it seems?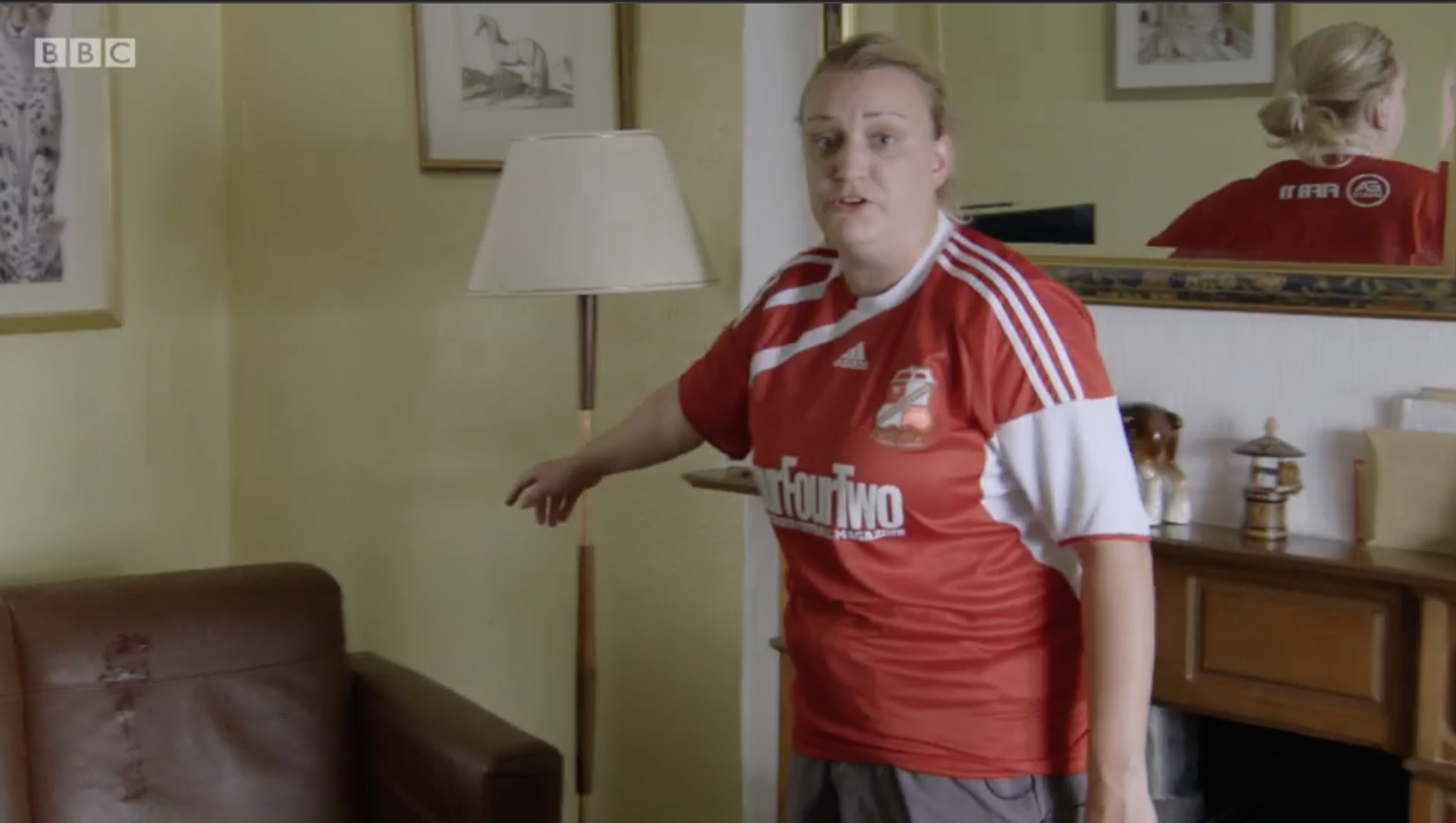 Kurtan's style
While Kerry's choice of lower-league football kits isn't exactly couture, it's Kurtan's collection of baggy jeans, No Fear t-shirts and oversized skate shoes that will leave some viewers shivering. Like everything else in the series, it's perfectly observed and shows extraordinary attention to detail.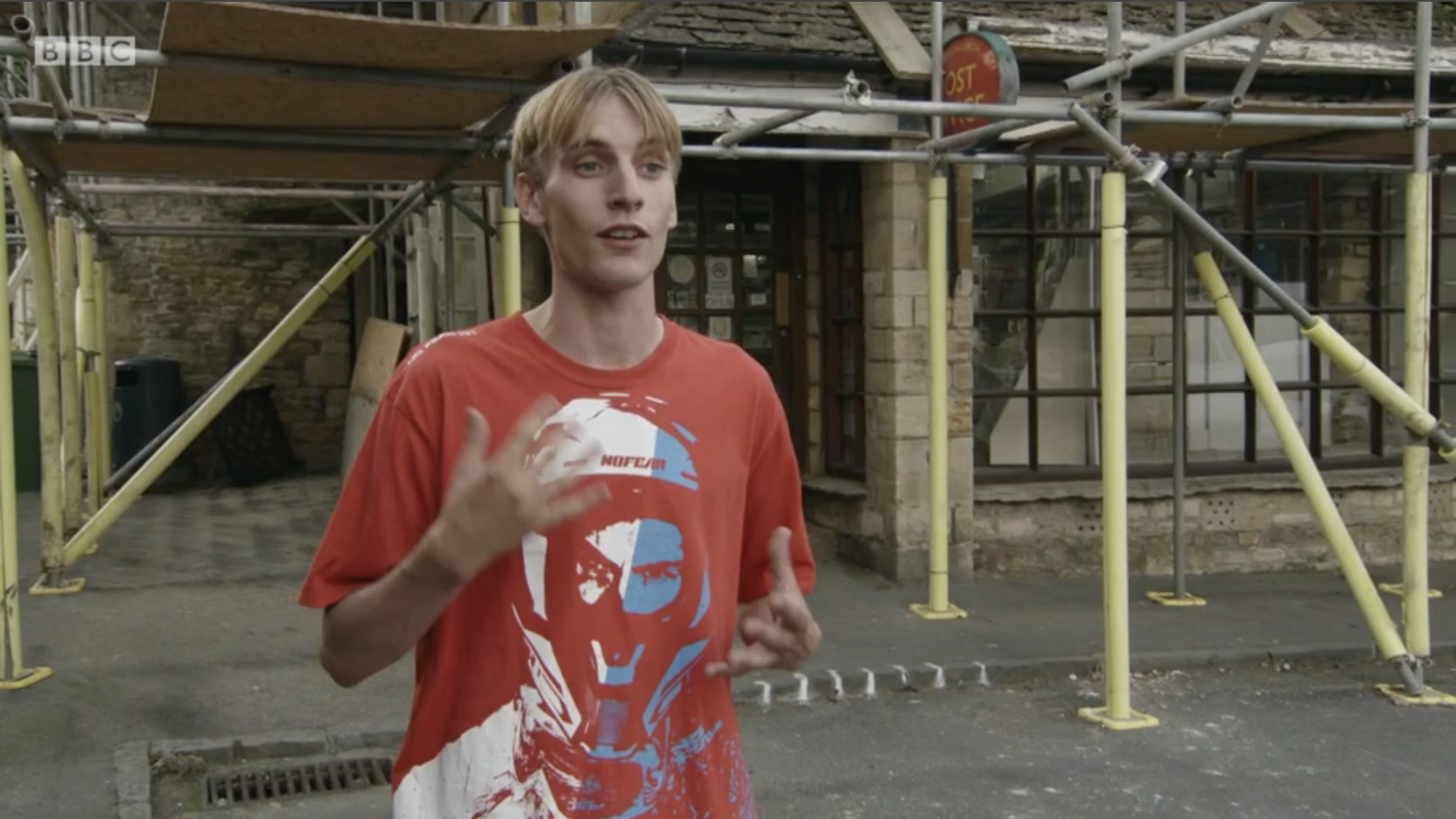 Kerry's business acumen
The long-term plan is for Ketty and Kurtan to get a flat in the middle of the village and use the spare room to breed quails, "because their eggs are worth fucking shit loads…"
Top-shelf
Kerry decides to organise a homecoming party for her Uncle Nugget who was sent to prison 'for having a laugh.' While preparing for the party, Kerry and Kurtan go to war over the top of the oven as they respectively try and cook turkey dinosaurs and a pizza. Kerry offers Kurtan the top-shelf if he shares his pizza. An offer Kurtan refuses because he eats his pizza from the inside out. "I don't use the basic slicing system" he tells Kerry, "which is why I get so fussy at Pizza Hut."
Having a proper dark time listening to Papa Roach
And blowin' everything up with them little French bangers.
Peeping
Kerry's dad gets done for peeping. And it wasn't his first offence either. "He was peeping in the sixties," says Kerry's mum, "peeping in the seventies, peeping in the eighties on your Auntie Linda, peeped all the way through the nineties…"
Big Mandy
Arguably the hardest person in the village, although in her head Kerry sees herself as equal, Big Mandy is first introduced on the hunt for a blind man who scared her dog and made it eat a nest full of birds. Later, she starts a business as a tattoo artist and offers Kerry some free ink. But after seeing Big Mandy's skills, Kerry starts to have second thoughts.
Fighting Gypsy style
Kurtan has a run in with Kerry's dad Martin after he lets Kerry down and decides to move back in with his ex, Sandra. It's a tops off duel at the caravan with Martin laying down the guidelines early on, "I don't land the first punch" he tells Kurtan, "I play gypsy rules."