Films
Frenzy at 50
Ian Freer celebrates Alfred Hitchcock's killer thriller's 50th anniversary
The trailer for Alfred Hitchcock's 1972 film Frenzy begins with the director's lifeless body bobbing up and down on the Thames before he turns to the camera in close-up and says, "I dare say you are wondering why I am floating around London like this."  He makes a good point. Hitchcock moved to Hollywood in 1939 and the Leytonstone-born director hadn't made a film entirely in the capital since Stage Fright in 1950. Although Hitchcock had been back and forth over the years, looking at London through a lens in 1971 must have presented a different, startling proposition. The twin horrors of the Luftwaffe and '60s modernist architecture had disfigured the backdrop of his childhood beyond all recognition. But, with Frenzy, Hitchcock was taking it back. For although his 52nd film is a lurid potboiler that brilliantly spins terrifying horror and dark humour on a dime, it is also a deathless act of reclamation for his long-gone hometown. 
Frenzy's source material was so Hitchcock it might as well have made a knowing cameo in the finished film. Drawing from real-life murderer Neville Heath, Arthur La Bern's 1966 novel Goodbye Piccadilly, Farewell Leicester Square was a compendium of the filmmaker's plot cores and thematic interests. A mash-up of The Lodger and Psycho, it follows sexually impotent serial killer Robert Rusk (Barry Foster, landing the role after Michael Caine passed) getting his kicks by strangling women with a neck-tie in '70s London. After his ex-wife Brenda (Barbara Leigh-Hunt) and barmaid girlfriend Babs (Anna Massey) are murdered, former RAF serviceman Richard Blaney (Jon Finch) becomes the chief suspect, so in true Hitchcock style, the innocent man goes on the lam as the police (represented by Alec McCowen's chief inspector) close in and the body count rises. Following the box office and critical failure of Torn Curtain and Topaz, Hitchcock needed a hit. For Universal head Lew Wasserman, a thriller shot in London (which would keep the costs down) that delivered firmly what audiences wanted and expected from the director fitted the bill. So, the crafty cockney was sent home. 
To adapt La Bern's novel, Hitchcock enlisted Anthony Shaffer, riding high on Broadway thanks to his terrific two-hander Sleuth. Staying in Claridge's hotel, the two men would walk the streets of London – Hyde Park, Leicester Square, Piccadilly, Oxford St, Bayswater and along the Thames – picking locations, plotting mischief and mayhem. On one such recce, Hitchcock noted the close proximity of Hammersmith hospital and Wormwood Scrubs prison and came up with idea for the film's finale. Flitting between London and Los Angeles, where the work day always ended with daiquiris, the director and writer reworked La Bern's book. On the page, the murderer was revealed by fingerprints left on a potato, which, according to Hitchcock, "had been stuffed into a questionable area of the victim's body". As a film, Frenzy was both more sophisticated – and more unnerving.
Frenzy opens with a typically bravura helicopter shot, starting in mid-air above the Thames near Hitchcock's old haunt of Limehouse, then gliding under Tower Bridge, arriving to hover above the old County Hall, where a politician is speechifying about how the Thames has been cleaned up (keep 'em peeled for Hitchcock in the crowd sporting a bowler hat). The speech is rudely interrupted by the naked body of a woman washing up on the shore. Ron Goodwin's score initially gives the shot the feel of a travelogue directed by one of the world's greatest filmmakers but Frenzy emerges as something more, a scrapbook of Hitchcock's memories, a paean to the London the director grew up in. It might be set in '70s London but Frenzy smacks of an atmosphere from decades before, Hitchcock leaning into the narrow alleyways and dark stairwells of The Lodger, Sabotage and The Man Who Knew Too Much. Looking to find the boozer in which Blaney is fired (by Bernard Cribbins), Hitchcock bemoaned the "psychedelic nature" of contemporary watering holes. "They look wrong," he observed. "There's nothing like dark wood in a good pub."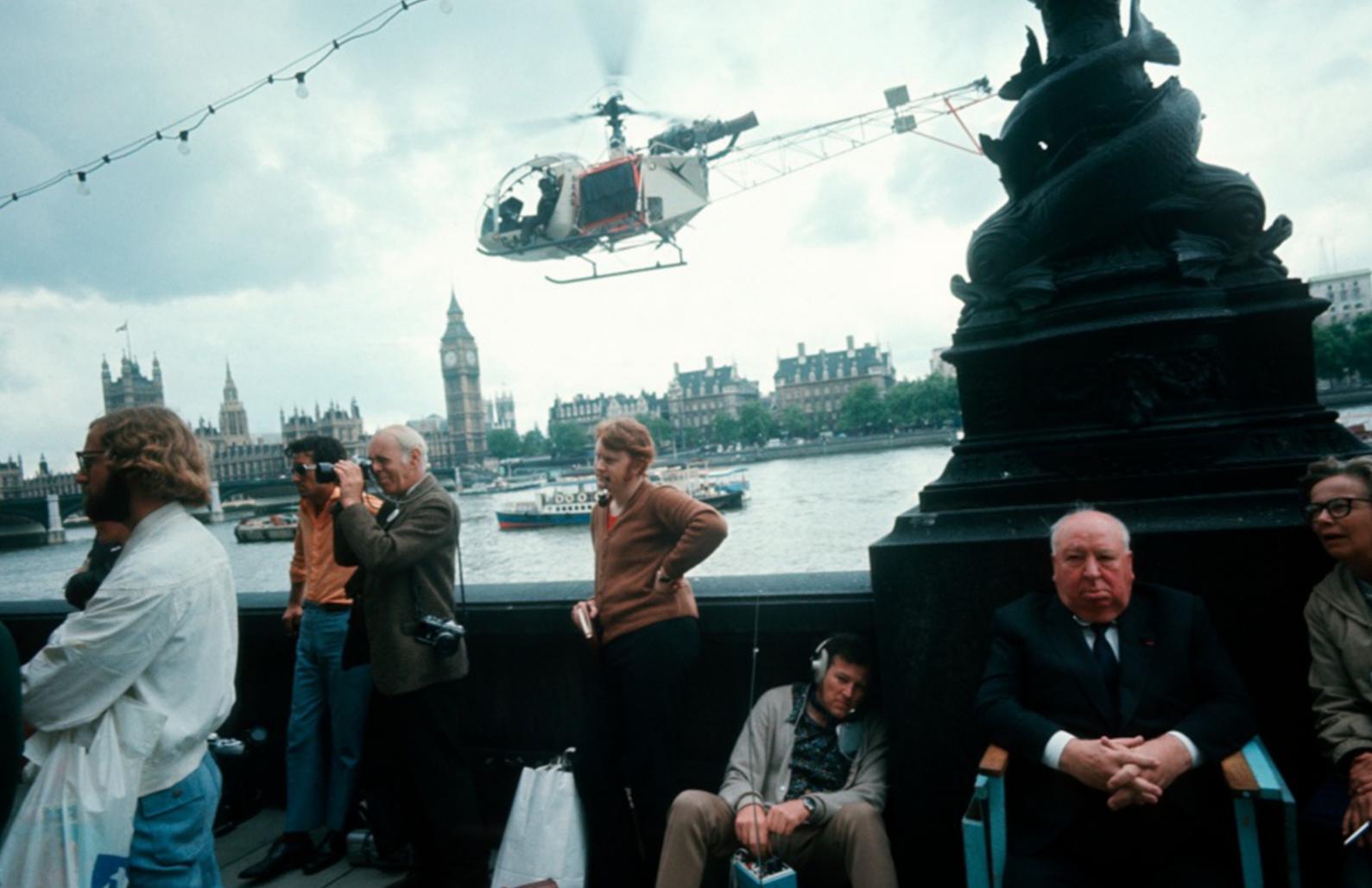 In La Bern's novel, the killer lived in Covent Garden, a locale that couldn't be more resonant for the director. Hitchcock's father William traded in fruit and veg, so young Alfred would follow him around the market learning the family business (in a typically twisted tribute to William, Hitchcock made the murderer Rusk a fruit and veg wholesaler).  Hitchcock's biographer Donald Spoto wrote, "To anyone who would listen, Hitchcock spoke of his childhood in old London and of the Moroccan tomatoes available at Covent Garden in both 1901 and 1971, and of the citrus fruits from Israel, the grapes from Spain, the vegetables from California and the special produce from all over the world." Covent Garden was due to be demolished and relocated in 1974, so when Hitchcock arrived in a Rolls-Royce on the first day of filming – the press assembled to mark the occasion – it wasn't just to shoot a scene; it was to capture an important part of the filmmaker's personal history. "He was finding and feeling his roots," recalled Shaffer. 
Yet outwardly, Hitchcock displayed little to no nostalgia about his return to domestic filmmaking. "One is preoccupied with one's work," he told a reporter about filming in the capital. "London is just work and a hotel room." When he wasn't filming on location, Hitchcock holed up on the stages of Pinewood (where his homecoming was marked with a lavish banquet), which again seemed to provoke very little sentiment. "When I enter the studios – be it in Hollywood or London – and the heavy doors close behind me, there is no difference," he told critic-director-superfan François Truffaut. "A coal mine is a coal mine." On set, Hitchcock would often run out of steam by the afternoon, and the director increasingly retired to his trailer for vodka-and-orange breaks. The deliciously dark moment where Rusk is forced to break the cold, dead, rigor mortis-stricken fingers of Babs to release his incriminating tie pin was even relegated to the second unit while Hitchcock dined with Princess Grace (Kelly, who starred in Hitch's Dial M For Murder, Rear Window and To Catch A Thief) and Prince Rainier of Monaco. From the outside, it seemed like a filmmaker going through the motions.
But the finished film suggests anything but. For his penultimate film – his swansong, Family Plot, arrived four years later – and in his seventh decade as a director, Frenzy feels like the handiwork of a much younger filmmaker. It's a brazen, heady cocktail of warped male desires and discomforting misogyny ("Bitch! You women are all the same. I'll show you!") wrapped up in a playful use of framing and sound, mischievous humour (witness the running gag of the police chief forced to eat the "avant-garde" dishes concocted by his wife), elegant camera moves and beautifully orchestrated suspense (Rusk trying to uncover a corpse in a moving potato truck is a nailbiter). Two diametrically opposed sequences immediately entered the Hitchcock Set-Piece Hall Of Fame. The killing of Brenda is an act of dizzying montage to rival Psycho's shower scene, whereas for Babs, a stunning single take sees the camera follow her and Rusk up the stairs to his apartment, hold on the door, then slowly withdraw back down the stairs and into the street (moving between a studio set and real location) as the murder takes place. Incredibly difficult to achieve in 1971, it's the director at his most quiet, discreet and powerful.
Heading back to the US after filming wrapped, Hitchcock returned to London in early 1972 for scoring and mixing. He had initially engaged Pink Panther maestro Henry Mancini to score but Hitchcock rejected Mancini's music on the basis it was "too macabre". English composer Ron Goodwin, a stalwart of '60s Brit war films such as Battle Of Britain and 633 Squadron, was hired and gave the music a lighter touch, providing the nostalgia for London Hitchcock never relayed in soundbites. The biggest post-production battle came over a classic lick of mordant Hitch wit; a corpse with a tongue hanging out, comedically dripping saliva. The director decided to remove it from the US version but left the shot in for the UK, so the conservative censors would focus their cuts on it, and hopefully allow the rest of the material to pass. The film subsequently became the first Hitchcock film to garner an X (18) certificate.
The finished film didn't please its author, La Bern denouncing Frenzy as "distasteful" with "appalling dialogue", but it earned Hitchcock his best reviews in years. "One of Hitchcock's major achievements," said Variety; The New York Times described it as "a passionately entertaining film"; and Time said, "It is smooth and shrewd and dexterous, a reminder that anyone who makes a suspense film is still an apprentice to this old master." 
Truffaut observed, "Hitchcock not only intensified life, he intensified cinema." With Frenzy, he intensified London too. The city it depicts might be lost forever – if it ever even existed – but it is preserved through the power of Hitchcock's artistry. In a film full of (imaginatively conceived) death, it's nice to know one thing survived.