Features
What to watch this September
A round-up of all that's worth your time this month…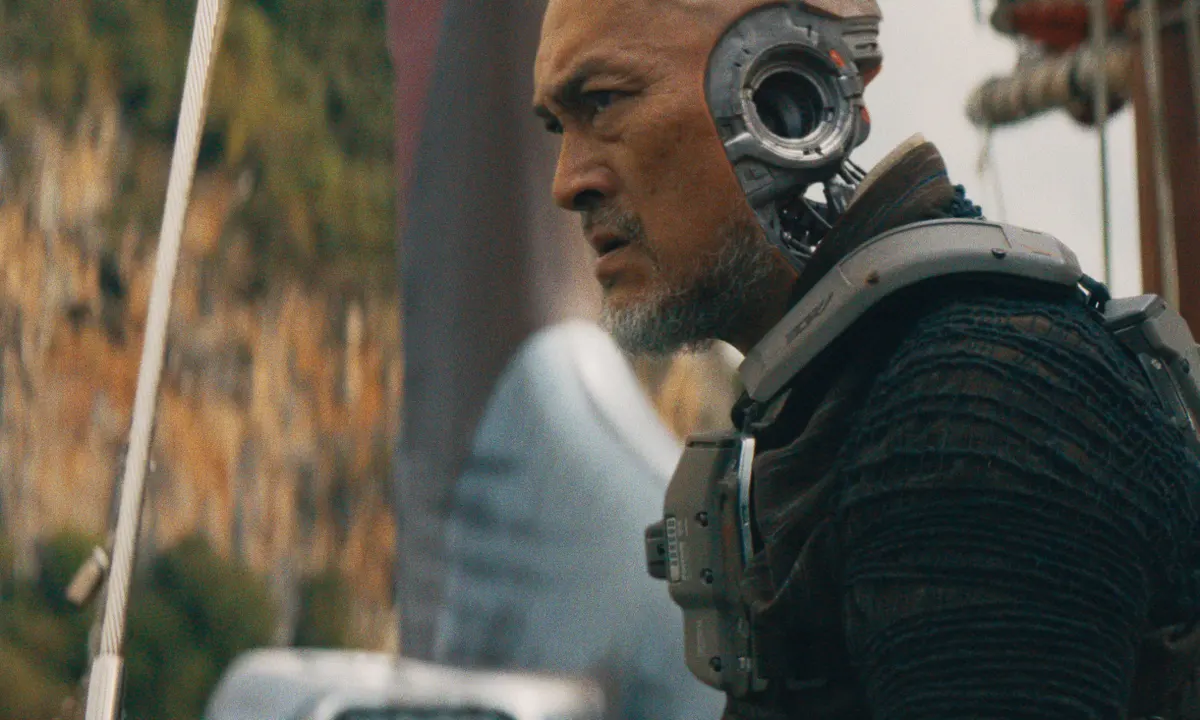 The Creator
In cinemas 28 September
After the phenomenal Rogue One, Gareth Edwards is back with a film that looks unbelievable. In a world where AI is everywhere and taken over the jobs that humans don't want to do, it all falls apart when a nuclear weapon goes off in Los Angeles that's detonated by the AI. Starring John David Washington and Gemma Chan, it looks like Edwards has built a world we very much want to immerse ourselves in. See it on the biggest screen possible.

Cobweb
In cinemas 1 September
Samuel Bodin's directorial debut stars The Boys' Antony Starr, and Lizzy Caplan as parents of a young boy that's haunted by an eerie noise coming from inside their house. Anything with Antony Starr and Lizzy Caplan is going to be of interest to us, and adding in that it's a horror from the excellent director and writer of Marianne, this is perfect for getting you in a spooky mood before everyone goes a bit over-the-top about Halloween.
Passages
In cinemas 1 September
Starring Ben Whishaw and Franz Rogowski as an incredibly attractive married couple, Passages (from director Ira Sachs) showcases the messy, non-romanticized version of affairs that's always difficult but sometimes incredible to witness. Having a love triangle that's the inverse of the heteronormative 'one man, two women' is both great and heartbreaking to see. This isn't one to watch with the kids tho…
The Nun II
In cinemas 8 September
The sequel to the surprisingly good, The Nun, Sister Irene is back and this time, it's personal. After the death of a priest, and evil potentially spreading, Sister Irene has to go to a boarding school to face Valak once more. There's no better films to see in the cinema a bit too late at night than one in the Conjuring-verse currently, they're always a reliable experience. Not quite up there with shit-your-pants Talk To Me but close…
A Haunting In Venice
In cinemas 15 September
In what is a departure from the previous two in the ridiculously-mustachioed Kenneth Branagh Poirot-verse, A Haunting In Venice is much more of a thriller murder-mystery than the previous two. Going from the questionable performances in Death On The Nile to the hopefully-much-better Michelle Yeoh we're looking forward to seeing which butler really did it this time.
Dumb Money
In cinemas 22 September
As someone that actually made some money, which they spent on a Star Wars virtual reality experience, on the Gamestop and Reddit extravaganza of 2021, Dumb Money looks fantastic. With a bizarrely stacked cast, including Paul Dano, America Ferrera, and Sebastian Stan, we're going to enjoy watching regular people ruining the plans of the elite once again in this David v Goliath tale from Craig "I Tonya" Gillespie.
The Expendables 4
In cinemas 22 September
Is it called The Expendables 4, or EXPEND4BLES, (surely you wouldn't want to look at all similar to FANT4STIC), you know exactly what you're getting into here. Starring some of action movies' biggest stars, and actually including women this time (progressive…), this looks like a guaranteed OK-time. Going from earlier this year's incredible John Wick 4, to The Expendables 4, is a bit like action whiplash however.
Saw X
In cinemas 29 September
When you try and fuck with the Jigsaw killer, don't be surprised when he doesn't take it too well. Starring the original Jigsaw killer, Tobin Bell, John Kramer is desperate for a cure to his cancer that isn't all it seems to be, run by people that shouldn't expect to live much longer. We are so excited to see what horrific traps and puzzles need to be solved this time round.
The Changeling
On Apple TV from 8 September
Set in a New York City that might not be all it seems, with a husband who can't seem to find his wife anywhere, The Changeling looks to be a potential horror hit for Apple TV. Based on a book by the same name, Apple TV very rarely disappoints in their TV series, presumably because they have infinite money to spend.
The Wheel Of Time Season 2
On Amazon Prime from 1 September
Following on from the first season, The Wheel Of Time stars Rosamund Pike as the witch-like Moraine who's plan is to guide the Dragon (or Rand to his friends) and stop him destroying the world. Flying a little under the radar (overshadowed by the Rings Of Power) this fantasy adventure's first season holds an 81% Certified Fresh critics rating on Rotten Tomatoes. We're looking forward to more trollocs and Seanchan and Perrin turning into a wolf…
The Morning Show Season 3
On Apple TV from 13 September
The first 2 seasons are excellent looks at the modern-day world of morning news as well as showcasing the COVID-19 pandemic and the #MeToo movement. With Jennifer Aniston and Reese Witherspoon returning and Jon Hamm joining the cast as a tech titan, Apple TV might be worth staying subscribed to while we wait for more Silo after all.

The Continental
On Peacock from 22 September
From the world of John Wick comes The Continental, a mini-series showing how Winston, who in played by Colin Woodell but in the films by Ian McShane, came to be the manager of the New York branch of Continental hotels in the 1970s. Fans of the franchise are cautious and unsure whether the series continues the stylish killings of the films, as well as the casting of Mel Gibson leaves much to be desired.
Welcome To Wrexham Season 2
On Disney+ from 12 September
As if you didn't know by now, Welcome To Wrexham follows the sensational story of Ryan Reynolds and Rob McElhenney's ownership of the Welsh football club and how their passion and money has changed the fortunes of the club and the town itself. The ultimate real-life underdog story will this season show them returning to League Two for the first time in 15 years.
Gen V
On Amazon Prime from 29 September
If you've been living under a rock and somehow missed out on seeing The Boys you must stop reading this immediately and go and watch all seasons. A spin-off of one of if not Prime Video's biggest hit, Gen V follows the students of a college set in the universe of The Boys. With Vought corporate sponsorship, litres of fake blood, and familiar cameos, we're hoping this reaches the highs of the main series.
Bomb Rush Cyberfunk
On PS and Xbox from 1 September
First of all, no it's not Jet Set Radio. However, it is the spiritual successor we've been waiting for since Jet Set Radio Future's release in 2002. Eye-popping visuals, colours to be dazzled by, and a killer soundtrack work alongside going quick and performing tricks, we're excited to turn our brains off and begin our time in New Amsterdam.
Starfield
On Xbox and PC from 6 September
It's been a very long time since people were talking about an Xbox exclusive the way they're talking about Starfield, and it's absolutely deserved. The promise of an enormous universe full of interesting characters and the amount of replayabilty, alongside Bethesda's storytelling expertise, we can't wait to lose hundreds of hours and hamper our career whilst we're amongst the stars.
Baldur's Gate 3
On PS5 from 6 September
Like the rest of the world, all we can think about is Baldur's Gate 3. It has completely taken over our lives and has only improved it. With one of the best character creators ever in gaming, some of the best writing ever, and perfectly adapting that Dungeons and Dragons tabletop feeling into a video game (with rolling D20s changing the outcomes and everything), it's incredibly exciting that something seemingly niche has become such a hit on PC. Hopefully the controls translate to PlayStation, as this game deserves as many players as it can get.
Mortal Kombat 1 – Official Rulers Of Outworld
On PS, Xbox, PC and Switch from 19 September
In what is the 12th Mortal Kombat game and the second reboot of the series, Mortal Kombat 1 looks to be more of what makes the fighting game series excellent. Over the top fatalities, a mechanic called Kameo Fighters that act almost like a tag team fight in wrestling, and actual cameos from Peacemaker, Omni-Man, and Homelander himself, we can't wait to beat the shit/blast with laser eyes out of each other.
Lies Of P
On PS, Xbox and PC from 19 September
While it looks very, very, very, similar to Bloodborne and other FromSoftware games, Lies Of P is not made by them. It's very inspired by them however, and we're all for a good Souls-Like experience. Adding another to the pile of Pinochio-related content we've gotten in recent years, and with the ability to sharpen your weapons with the grinder built into your left arm, here's hoping it tells a better Pinocchio story than the Pauly Shore-voiced 2021 adaptation.
Payday 3
On PS, Xbox and PC from 21 September
The third in the Payday franchise, some of the biggest co-operative games ever, Payday 3 promises more of what made the series so popular. Interestingly, Payday 3 was created on Unreal Engine 4 but later down the line will be upgrading to 5, meaning a visual overhaul at some point down the line. You wouldn't expect it to, but the Payday games do have an over-arching storyline which this will continue adding to, as well as further usage of the GAAS (Games as a Service) model, Payday 3 won't be going anywhere even though it's released amongst other heavy-hitters.