Films
Monthly Cultural Highlight Update
Digging out all of the best stuff coming in November.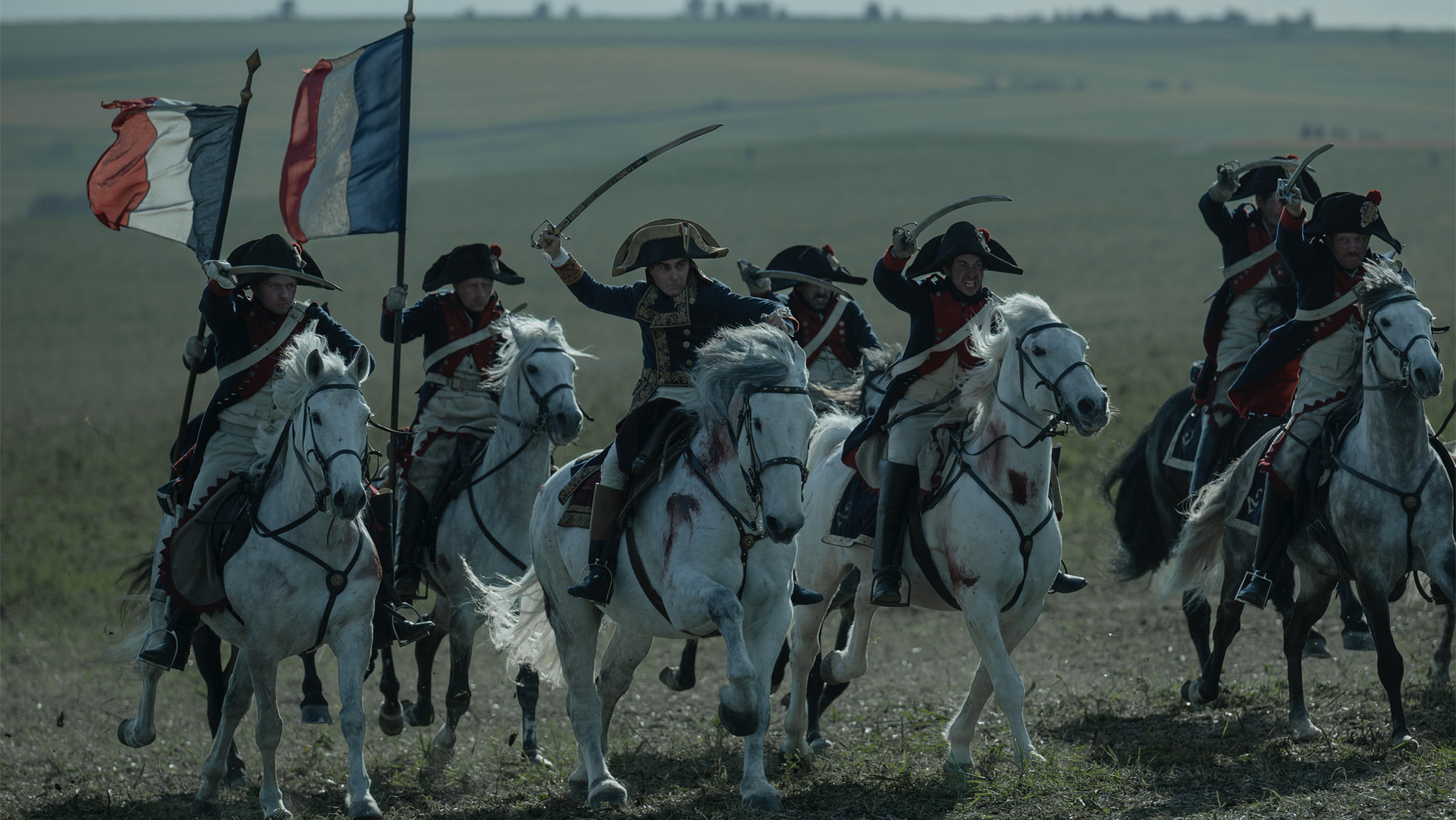 Napoleon
In cinemas 22 November
Historical epic! Joaquin Phoenix! Pyramids! The wait is almost over for one of the most anticipated films of the year. Ridley Scott's film about the rise of Napolean Bonaparte (and his scheming wife Josephine) looks set to be the movie you need to see in IMAX where you'll almost be able to smell the canon smoke. But will it be better than Gladiator? Or more Kingdom Of Heaven-y? 
How To Have Sex
In cinemas 1 November
Molly Manning Walker's directorial debut won the top prize at the Un Certain Regard at Cannes 2023, and has continued to review well since its initial screenings. Focusing on the female teenage experience and the party lifestyle, it's one to look out for if you're interesting in a coming-of-age story without all the normal clichés.
Fingernails 
Apple TV+ from 3 November
Written and directed by Christos Nikou and with an all-star cast, Fingernails looks like yet another reason to continue the Apple TV subscription. Starring Jessie Buckley, Riz Ahmed, Jeremy Allen White, AND Annie Murphy, and with a science fiction story set in a world where an organisation is able to decide whether you're in a genuine romantic relationship, we're sure this won't cause any arguments in living rooms across the world.
Bottoms
In cinemas 1 November
Released much earlier this year across the pond, it's been a gruelling wait for Bottoms to arrive in UK cinemas but that time is finally here. Joining the ranks of Superbad and Booksmart, Bottoms is another high-school comedy about unpopular friends that only have sex on their minds. Starring Rachel Sennott, who also co-wrote it, and with The Bear's Ayo Edebiri, we're going to be seated at the earliest screening possible.
The Marvels
In cinemas 10 November
The next entry in the now-gargantuan Marvel Cinematic Universe is potentially the franchise's most unique yet. Following Captain Marvel (Brie Larson), Ms. Marvel (Iman Vellani), and Monica Rambeau (Teyonah Parris), the powers of these three marvels become intertwined once a villainous force seeks to get revenge on Carol Danvers. The internet is littered with endless trolls who are grasping at any straw they can find to hate on it, but we're optimistic that Nia DaCosta's vision proves them wrong.
Anatomy Of A Fall
In cinemas 10 November
Winner of 2023's Palme d'Or at Cannes, (and the Palm Dog Award for best canine performance!), Anatomy of A Fall is a courtroom drama depicting a trial of a writer pleading her innocence after the death of her husband. An enormous amount of praise from both reviewers and French cinemagoers has been going to Sandra Hüller's performance as the writer on trial, and we're sure to be joining them this November.
The Hunger Games: The Ballad Of Songbirds And Snakes
In cinemas 17 November
Set before The Hunger Games franchise's last releases, The Ballad Of Songbirds And Snakes is another book to screen adaptation set in the world of Mockingjays and excellent outfits worn by presenters. Exploring the origins of the games (which are more basic and brutal) it follows the history of Coriolanus Snow and how he became that evil grumpy Donald Sutherland in the sequels.
Saltburn
In cinemas 17 November
Two young men, one psychological thriller set amongst a story of privilege and the aristocracy. Starring two of the biggest names in acting right now, Barry Keoghan and Jacob Elordi (AKA that bloke from Euphoria), and directed by Academy Award-winning Emerald Fennell, this shouldn't be low on your watchlist.
May December
In cinemas 17 November
A dark comedy that's loosely based on a really horrible story, May December follows an actress that is spending time with a couple with quite the age gap between them for research. With Natalie Portman as the actress and Julianne Moore as part of the complicated couple, could there be a better on screen pairing this year?
The Killer
On Netflix from 10 November
The incredible David Fincher's next film, which is in theatres now but on Netflix from 10 November, looks to be another in his catalogue of neo-noir thrillers that people obsess with for years on end. Starring Michael Fassbender as The Killer, it's based on a graphic novel of the same name and sees Fassbender's character become part of a manhunt after a hit gone wrong.
The Buccaneers
On Apple+ from 8 November
Directed by Susanna White, who previously directed a Jane Eyre miniseries, and a few episodes of the phenomenal Star Wars series Andor, comes what could be Apple TV's answer to Bridgerton. Based on an unfinished novel with the same name, it follows a group of American women who travel to London in the 1800s, showcasing the many cultural differences at the time.
Monarch: Legacy Of Monsters
On Apple+ from 17 November
Set in the MonsterVerse alongside Godzilla and Kong: Skull Island, Monarch follows a family with ties to the shadowy Monarch organisation. With some of the best casting we've seen in ages, Kurt Russell and his son Wyatt Russell (who plays a younger version of the same character), we're just hoping it's better than Godzilla vs. Kong. Surely it will be? Right? RIGHT?
All The Light We Cannot See
On Netflix from 2 November
Directed by Shawn Levy, of Stranger Things fame, and based on a book with the same name, this miniseries is set during the Second World War and follows two teenagers, one a blind French girl and the other a German soldier. The book has sold over 15 million copies and won the Pulitzer Prize for Fiction, so hopes are high that the miniseries can match the incredible atmosphere of the book.
007: Road To A Million
On Amazon Prime from 10 November
The first ever James Bond television series, Road To A Million is a reality show from the producers of the James Bond films. With 9 pairs of contestants that battle it out on a global adventure, all whilst 'The Controller', played by Brian Cox, is watching over them, the successful pair will win themselves one million pounds. Where do we sign up for series two?
Scott Pilgrim Takes Off
On Netflix from 17 November
Based on the graphic novels, but retaining the voice cast of 2010's Scott Pilgrim Vs. The World, Scott Pilgrim Takes Off looks to satisfy both fans of the film and fans of the graphic novels. Developed by the creator of the graphic novels themselves Bryan Lee O'Malley and Ben David Grabinski, the trailers alone are not enough to satisfy our need for more Scott Pilgrim in our lives.
Slow Horses Season 3
On Apple TV+ from 29 November
Following on from two incredible seasons, season three of Slow Horses is back with more spy-thrillery goodness led by the "in need of a good wash" Jackson Lamb (Gary Oldman). The usual group of MI5 misfits from Slough House return when a mysterious romantic liaison in Istanbul threatens to blow the lid off a whole bunch of hidden secrets that could bring MI5 down. And don't worry, a fourth season has also been confirmed!
Culprits
On Disney+ from 8 November
One of the handful of British-made shows commissioned by Disney+ in 2021, Culprits has a former crew of heisters getting bumped off one at a time. Starring Kirby Howell-Baptiste, Gemma Arterton, and Nathan Stewart-Jarrett, and with Disney+'s other British series Extraordinary being incredible, we're very optimistic for this, also this trailer (below) is lit.
Robocop: Rogue City
Released 2 November
Seemingly out of nowhere, there's finally a modern-day Robocop game. Playing as the titular cyborg law enforcer, you brute-force your way through objectives that only Robocop can complete. It's set between the second and third films in the franchise, and has Peter Weller returning to voice Old Detroit's robotic hero. We're very excited to be eradicating criminal scum with our Auto 9.
Call Of Duty: Modern Warfare 3
Released 10 November
The next entry into one of gaming's most gargantuan franchises, Modern Warfare 3 is clearly looking to recapture some of that Call Of Duty magic that people felt the last entry was missing. Featuring old-school multiplayer maps from the original 2009 Modern Warfare 2, which were shown off with a track also used in 2009, it's hard to deny that the magic of nostalgia is working like a charm.